Giving Back
At Tempest Technologies, LLC, we strongly believe in giving back to the communities where we live and work. We support numerous organizations by donating, or providing discounted costs for equipment, hosting and development. Here are just a few of the organizations we proudly support:
Tempest is a Gold Sponsor of the Komen Montana Race for the Cure and has helped the organization with its online presence for years. We are proud to be helping to make a difference in the fight against breast cancer.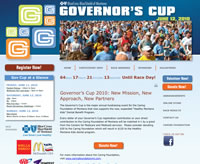 Tempest has teamed up with the BCBSMT Governor's Cup to help in their effort to raise funds for the Caring Foundation of Montana. The Caring Foundation of Montana has been dedicated to providing Montana children with access to health care benefits since 1992.
We are proud to be a business partner of Jim Darcy Elementary School in Helena. As a business partner, Tempest has donated color printers, digital cameras, computer workstations, laptop computers, copiers for each classroom and money for new playground equipment. Go Jim Darcy Mustangs!