Non-Profit
Our community fuels our work – we thrive off of the passion of our partners and it is passionate individuals like yourself that allow us to see the bright future of our community. In turn, we hope to provide our non-profit partners with the tools necessary to inspire their community. Everyone has a story to tell and the impact of a non-profit is no different.
Behind every non-profit is a crew of passionate people who will go to any ends to take their vision and make an impact.
Tell Your Story
When we first partner with your organization, we want to get to know not only the story of your organization, but also the personal story of the staff and leadership. Nine times out of ten, there are personal experiences and stories within your organization that can help connect your audience with your mission.
"The mission of Helena Food Share is to serve our neighbors in need by providing food in a respectful and dignified way and by working with others to eliminate hunger in the greater Helena area."
As we start working with you to outline your website, we will look for ways to incorporate the stories of your volunteers, board members, staff, donors, and clients, because: their story is your story. Sharing their personal stories allows your larger audience to more readily connect, because as they say: the more personal you get the more universal your story is.
"It is an honor to volunteer here. The people that work here and the people who come through are great. There are always a lot of laughs and it's a well-run organization."
Janet
Volunteer at Helena Food Share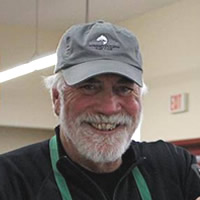 "When we give our resources to help others, we are better people, a better community, and a better society. Giving to Food Share is an enjoyable thing."
Mike
Volunteer at Helena Food Share
"Helena Food Share is a dedicated group of volunteers and staff. It's rewarding to see the difference you make in people's lives."
Ramey
Volunteer at Helena Food Share
Imagery
The use of imagery across your site invites your audience into the pictured scene. It is this kind of imagery that works in conjunction with your copy to relay your story in a memorable way.
Donation Integration
We realize that a primary objective of any charitably focused website is the ability of supporters to donate with ease. Our WordPress infrastructure allows us to integrate with nearly all online giving platforms, allowing for a seamless user experience.
Getting Creative
Amidst the pandemic, Helena Food Share had to make some tough decisions about how they operate to ensure the safety of their staff, volunteers, and clients. In order to adjust, we worked with Food Share to establish Virtual Food Drives and Competitive Fund Drives so that they would still be able to help provide for our neighbors during this challenging time. There is nothing more enjoyable than helping your vision come to life!
Let us help tell your story, so you have more time to spend on the things you love!