Kampgrounds of America (KOA)
Website and Mobile Application
Kampgrounds of America (KOA) is a Montana based company that started in Billings, Montana on the banks of the Yellowstone River. This company is built on family values, providing opportunity for unforgettable memories with the people you love.
With a network of over 500 campgrounds nationwide, it is unlikely that a bright KOA campground sign has not caught your attention as you've driven down the highway. When you follow that spark of curiosity with a visit to KOA.com or the KOA mobile app, you will find a website powered by a 20-year partnership with Tempest.
This long-standing partnership has given us the opportunity to work closely with the corporate team through rebranding, site redesign, and company growth.
Scope of Our Partnership
We work closely with the corporate KOA marketing team to ensure their website's content, design, and functionality provide the best possible user experience. The site averages well over 160,000 users/day and it is our responsibility to ensure uninterrupted service and the ability to quickly find and reserve RV, tent and lodging sites that meet individual needs.
In addition to the design, development, and maintenance of KOA.com, Tempest is responsible for the creation and management of KOA's Campground Content Management System (CMS), their OwnaKOA.com site, Work Camper presence and ongoing enhancements to the KOA App for iOS and Android users.
KOA.com is the primary consumer facing website of Kampgrounds of America. The site gives campers the opportunity to learn about the KOA brand and the company's 500+ campgrounds throughout the United States and Canada. The site contains comprehensive information about each property and is tightly integrated with KOA's content management system and proprietary campground management system.
Some of the key features and functions of KOA.com include customizable campground landing pages, an integrated blog presence, and a robust reservation system.

In 2021, the website hosted over 41 million user sessions, driving 2 million reservations and over $344 million in annual online reservation revenue.
We recently completed a comprehensive redesign of the KOA.com website. The new site is fully responsive and uses media and imagery to enhance the user experience. A variety of new features were added to the campground landing pages allowing each of the 500+ campgrounds to fully customize their presence on KOA.com with site type images and descriptions, amenities, food service offerings, photos, events, and more.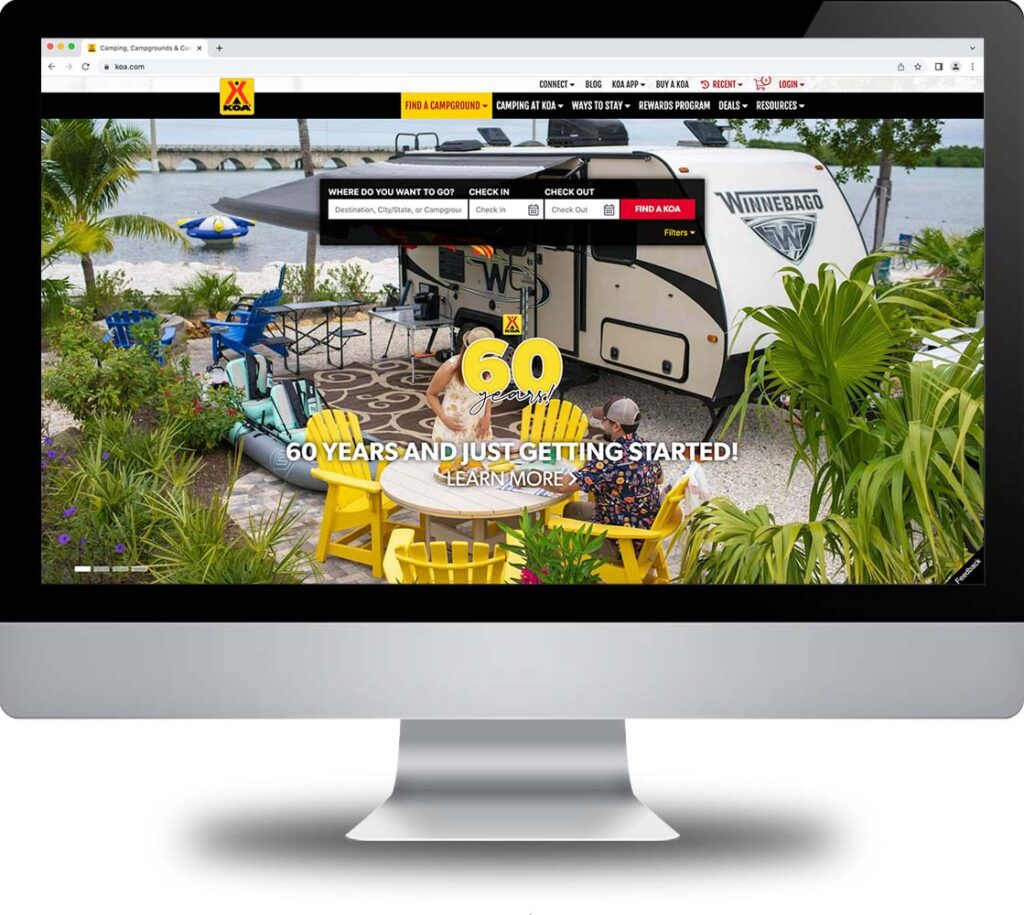 Mobile Application
The KOA App has been downloaded over 430,000 times and accounts for over $50 million in annual reservation revenues. Some of the unique features of the app include:
Individual Landing Pages for all 500+ campgrounds
Interactive Mapping and Search Functionality
Weather Services
Single Sign-On (SSO) Integration with KOA.com
Campground Push Notifications